Welcome
COME AND JOIN THE KNIGHTS
You'll be Glad You Did!!!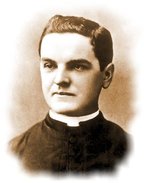 Knights of Columbus History
O
n
March 29, 1882, Fr. Michael J. McGivney, then Pastor of St. Mary's Church in New Haven Ct. convinced the Connecticut State legislature to officially charter the Knights of Columbus as a fraternal benefit society. The order was founded on the principles of Charity, Unity and Fraternity. Principles which it still upholds today.
The Knights was formed to render financial assistance to members and their families. Mutual aid and assistance are offered to sick, disabled and needy members and their families. Social and intellectual fellowship is promoted among members and their families through educational, charitable, religious, social welfare, war relief and public relief works.
The Order has helped families obtain economic security and stability through its life insurance, annuity and long-term care, and has contributed time and energy worldwide to service in communities.
The Knights of Columbus has grown from several members in one council to more than 13,000 councils and 1.7 million members throughout the United States, Canada, the Philippines, Mexico, Poland, the Dominican Republic, Puerto Rico, Panama, the Bahamas, the Virgin Islands, Cuba, Guatemala, Guam and Saipan.

Knights are practicing Catholic men, at least 18 years of age with a commitment of helping their community become a better place. Camaraderie is a big part of being a Knight as well as Catholic Church support, community involvement and enhancing family life and your own faith. So take the plunge. Join the Knights of Columbus and begin your journey along the road to personal enhancement and satisfaction. As we said before...



You'll be Glad You Did!!!
​Still not convinced? Click on the short video below